Prepare for Your Session: July/August 2-Day Sessions
Freshmen July/August Sessions
Get Ready for your SLO Days Session
Get excited for SLO Days 2019! Below we've put together everything you need to know to make your SLO Days experience the best it can be! Remember to pack what you need, know how to get here, and to check in with us once you arrive.
All information on this page pertains to the following 7 freshmen 2-day SLO Days:
July 15 & 16
July 18 & 19
July 20 & 21
July 25 & 26
July 27 & 28
July 29 & 30
Aug 1 & 2
If you still need to register for SLO Days, you can do so through the "Orientation Events" tab on your Cal Poly Portal.
2019 Freshman 2-day Summer Schedule At-A-Glance 
(Q+, transfer, and September SLO Days schedules differ)
Note: For students only at sessions July 15 -August 2, overnight accommodations provided in yakʔitʸutʸu Residence Hall. Learn more about yakʔitʸutʸu  here.
Day 1
7:30 AM - 8:30 AM (Students): Residence Hall & Session Check-in at yakʔitʸutʸu 
8:30 AM - 9:00 AM (Students & Supporters): Morning Kick-Off at PAC Plaza
10:00 AM - 7:00 PM (Students & Supporters): SLO Days Programming
7:00 PM - 10:00 PM (Students): Evening Entertainment and Organized Activities
7:00 PM - 10:00 PM (Supporters): Supporter Social -  sponsored by Edna Valley Vineyard
Lunch and Dinner provided for registered students and supporters.
Overnight accommodations for students in yakʔitʸutʸu Residence Hall.
Day 2
7:30 AM - 8:00 AM (Students): Residence Hall Check-out at yakʔitʸutʸu
7:30 AM - 12:30 PM (Students): SLO Days Programming
8:30 AM - 12:30 PM (Supporters): SLO Days Programming
12:30 PM - 4:00 PM: Department Office Hours (varies by department check schedule upon arrival for details)
Continental Breakfast provided (students only)
What's Included
Fro students and supporters attending SLO Days, here's what's included and what to expect. For session registration rates, go to Session Dates & Info: Freshmen Students.
Included in Your SLO Days Registration
On campus parking pass (emailed to the registered student 2 days before your session)
Cal Poly drawstring backpack (students)
Cal Poly reusable shopping bag (supporters)
Orientation folder, programming materials
Promotional materials and coupons from our Sponsors and Community Partners
Meals during programming (see below)
"Mustang Way" T-shirt - picked up at Week of Welcome check-in
SLO Days Programming
SLO Days programming is designed for students and supporters by current Cal Poly students and campus & community professionals. 
Programming for Students:
Journey to Academic Success
Healthy Habits
Student Life Essentials
Paving Your Path
"Get Involved!" Breakout Session
Campus Resources Breakout Sessions
Mustangs for Inclusive Excellence 
SLO Nites @ the UU and Summer Movie Night evening entertainment 
Campus Resources Fair
One Community 
Navigating your Cal Poly Portal
Time with your SLO Days Summer Crew Leader & group
Programming for Supporters:
Transitions & You
One Community
"Student's Drink, but Not My Student"
Journey to Academic Success
Campus Resources Breakout Sessions
Supporter Q & A
Supporter Social evening entertainment 
Paying for College (with Financial Aid and Student Accounts)
Crisis Response & Sexual Assault Prevention
Student Life Essentials
Office Hours with the VPSA
SLO Days Meals
All registered students and supporters will receive:
Day 1 catered lunch
Day 1 catered dinner
Supporters only: Day 1 light evening refreshments and wine tasting at Supporter Social
Students only: Day 2 continental breakfast
For any dietary needs or concerns, please enter at time of your orientation registration or email orientation@calpoly.edu. 
Additional catered meals for guests outside of the registered supporters are available for purchase. Click here for more info on additional options and meal tickets.
Arrival Information & Parking
Getting To Campus & Parking
Planning on driving to campus?  SLO Days 2019 parking and information will be available well in advance of summer sessions. Please check back on this website, Cal Poly Now, and your Cal Poly email often for most updated information.
Parking passes are included as part of your SLO Days Registration. Registered students will receive their parking pass in their Cal Poly emails 2 days prior to their session. 
What to Bring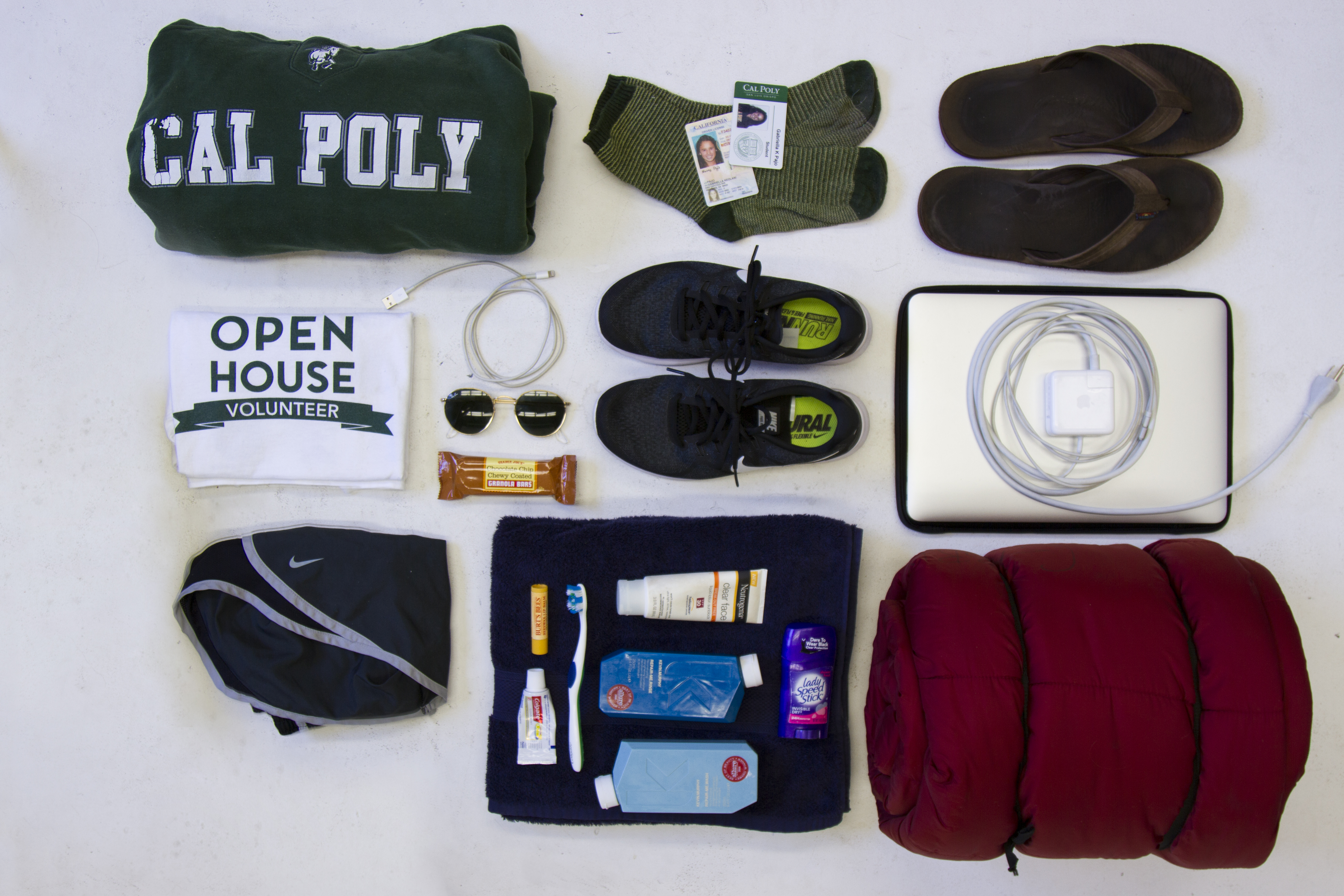 To Check-in:
Laptop/tablet with charger
Government issued photo ID
Cal Poly user name and password
Comfortable walking shoes, water bottle, sunscreen, sunglasses
If you are under 18, your parent/supporter must be present at SLO Days check-in to sign ASI waiver  (for optional Evening Entertainment activity at the Recreation Center)
When it becomes available mid-July, make sure to release your directory information to Associated Students, Inc. through the Cal Poly portal, under the Personal Info tab, under the Personal Settings so that you may participate in ASI activities and use ASI managed facilities

If under 18, please print, have a legal parent or guardian sign, and bring to check-in
To the Residence Halls:
Freshmen staying overnight provided twin XL mattress and access to in apartment bathroom and shower
Overnight basic toiletries (shampoo, conditioner, toothbrush, toothpaste, etc.).
Pillow, sleeping bag or sheets for twin XL mattress
Towel 
Re-useable water bottle
Change of clothes for Day 2
Change of clothes to use at Rec Center Facilities during evening of Day 1
Jacket/Sweatshirt for evening
sunscreen
Phone charger
Snacks
Shower Shoes
Any necessary medication
Stay Connected
Keep checking your Cal Poly email for important updates and information in the days and weeks leading up to your session. 
Connect with us on social media @CPorientation and share with us your #CalPolyBound stories. 
Download the app!
Your SLO Days schedule, arrival information, to-do lists - and more - all at your finger tips in the brand new "Cal Poly Now" mobile app, the official app of Cal Poly Student Affairs.
Download it now and search for the "Orientation 2019" guide - available May 2019 - and start planning ahead for your upcoming session.
Download Now:
Related Content