Two-Day Freshman Sessions
Information on SLO Days 2019 coming soon!
Get Ready for SLO Days 2018!
Get excited for SLO Days 2018! Below we've put together everything you need to know to make your SLO Days experience the best it can be! Remember to pack what you need, know how to get here, and to check in with us once you arrive.
If you still need to register for SLO Days, you can do so through the "Orientation" tab on your Cal Poly Portal.
Before You Arrive — Fill Out a Waiver
We are very excited to see you for SLO Days this summer very soon! SLO Days is a great opportunity to make connections with new students, campus organizations, and the SLO community in your first experience as a Mustang! 
One of the many amazing activities we have scheduled for you is SLO Nites @ the Rec with Tide Mustang Laundry, which is a fun opportunity to experience our Recreation Center and participate in games and fitness classes – including yoga, Zumba and body combat!
To participate in this activity, every student MUST complete an ASI Waiver of Liability, Assumption of Risk and Indemnity Agreement. If an admitted student is under 18, they MUST have a parent or guardian sign the waiver BEFORE your session. Admitted students over the age of 18 will sign their own ASI Waiver of Liability, Assumption of Risk and Indemnity Agreement while at SLO Days.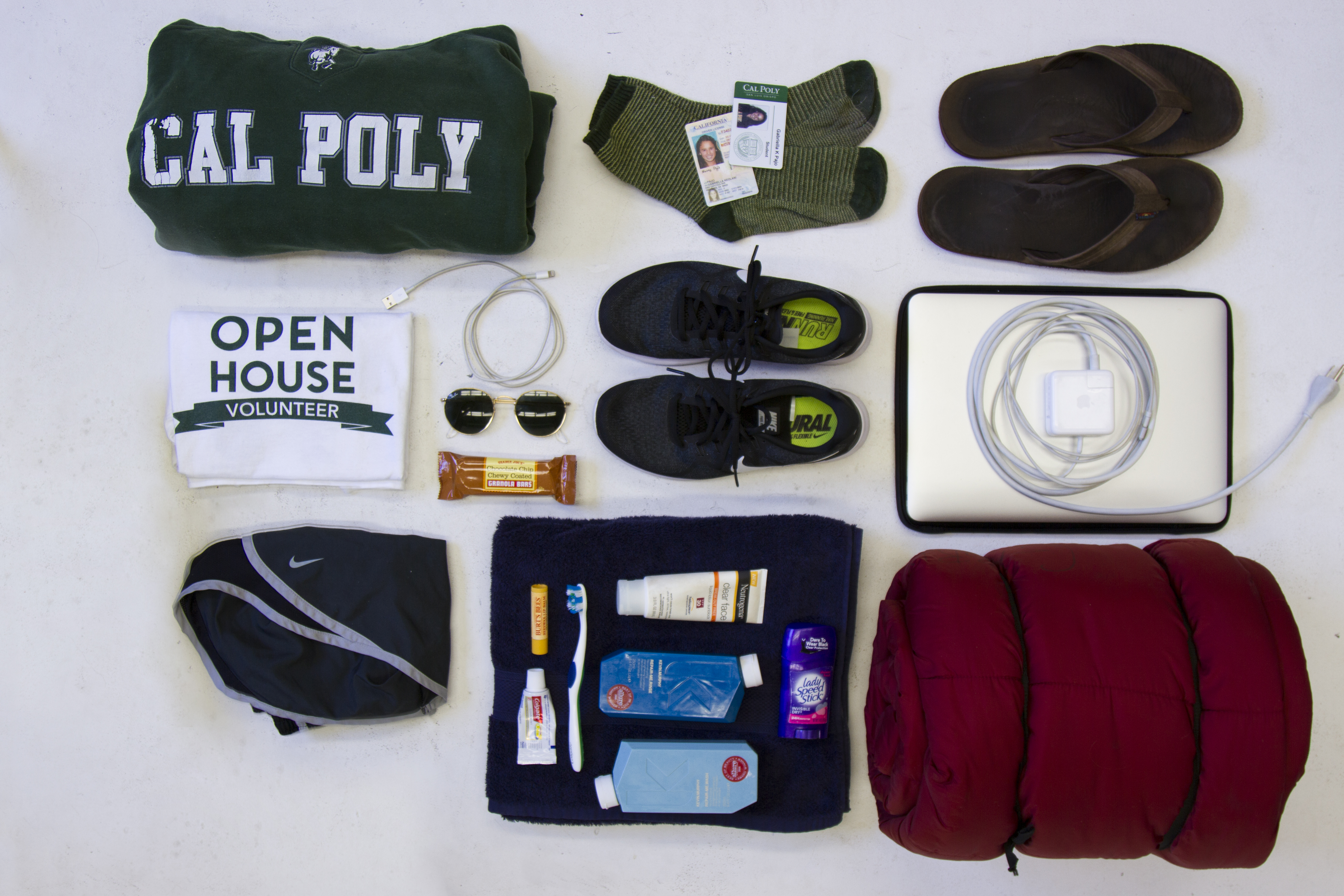 What to Bring - Freshmen sLO Days 
To Check-in:
Laptop/tablet with charger
Government issued photo ID
Cal Poly user name and password
Comfortable walking shoes, water bottle, sunscreen, sunglasses
If you are under 18, your parent/supporter must be present at SLO Days check-in to sign ASI waiver  (for optional Evening Entertainment activity at the Recreation Center)
When it becomes available mid-July, make sure to release your directory information to Associated Students, Inc. through the Cal Poly portal, under the Personal Info tab, under the Personal Settings so that you may participate in ASI activities and use ASI managed facilities

If under 18, please print, have a legal parent or guardian sign, and bring to check-in
To the Residence Halls:
Freshmen staying overnight provided twin XL mattress and access to in apartment bathroom and shower
Overnight basic toiletries (shampoo, conditioner, toothbrush, toothpaste, etc.).
Pillow, sleeping bag or sheets for twin XL mattress
Towel 
Re-useable water bottle
Change of clothes for Day 2
Change of clothes to use at Rec Center Facilities during evening of Day 1
Jacket/Sweatshirt for evening
sunscreen
Phone charger
Snacks
Shower Shoes
Any necessary medication
Getting To Campus & Parking
Planning on driving to campus? Click the link below for information on SLO Days parking and driving directions.
SLO Days Check-in
Students staying overnight will check-in for their room first at Poly Canyon Village from 7:30 AM until 9:30 AM

After checking in to their room, students and supporters should check-in together at the University Union Plaza for SLO Days from 9:00 AM - 10:30 AM, students must have their government issued ID

Doors open for our first session at Harman Hall at 10:15 AM

On campus dining options available in the Julian A. McPhee University Union and Dining Complex, click here for summer dining hours

Cal Poly University Store open 8:00 AM - 5:00 PM
Download the app!
Your SLO Days schedule, arrival information, to-do lists - and more - all at your finger tips in the brand new "Cal Poly Now" mobile app, the official app of Cal Poly Student Affairs.
Download it now and search for the "SLO Days" guide and start planning ahead for your upcoming session.
Download Now:
Related Content